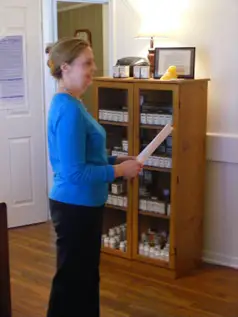 Unlike conventional medicine, which focuses on attempting to treat disease once it occurs, Mary E. White D.C. Chiropractic Clinic emphasizes improving your health in an effort to reduce the risk of pain and illness in the first place. Most people would rather be healthy and avoid illness, if they could. This is one of the main reasons for the big surge in the popularity of our wellness center.
People are recognizing the benefit of seeking an alternative to traditional medicine; one that will help them achieve and maintain optimal health. For some, Mary E. White D.C. Chiropractic Clinic will take them back to a place that is cozy and familiar, offering a rediscovery of health and wellness that had been previously known but long lost. For others, the journey may offer a new center, one never before experienced.
A Beautiful Office For All Your Wellness Needs
Facility
Our chiropractors are proud to provide a clean, comfortable, cutting­-edge facility.
Appointments
If you would like to make an appointment, please contact our office by phone or email. If you would like to request an appointment online, click 'Contact Us' above. A member of our staff will follow up with you.
Financial
Our practice accepts cash, check, and major credit cards. We will be more than happy to submit your insurance forms for you, and we accept most major insurance providers. Please call our office to verify whether your specific insurance plan is accepted. Payment plans and schedules can be discussed upon request.
Cancellation
If you would like to cancel an appointment, we ask that you provide us with at least 24 hours notice. A fee may be charged for a no­ show or late cancellation, and patients may be discharged from our practice for repeatedly missing scheduled appointments.
Services
We treat a variety of conditions here at our office including:
Questions about our practice, our policies, or the conditions we treat that aren't answered by this page? Don't hesitate to contact us!